Theme: Global Learning on Advanced Anesthetic Care
Anesthesia Meet 2018
With the coordination of the Organizing Committee, we are gratified to be framework the program for the 4th International Anesthesia and Pain Medicine Conference December 13-14, 2018 Abu Dhabi, United Arab Emirates. Our conference includes a well-proportioned group of speakers, covering both generous and precise topics of concernment. Our conference intends to provide Anesthetic physicians, specialists, nurses, technologist, professors, students and anyone professionally involved in Anesthetic Care with an opportunity to learn about the multiplicity of the Anesthetic Care, discuss interventional procedures, look at sophisticated Anesthetic practices and their efficacy and efficiency in the treatment of various Anesthetic cases, and comprehend practical constraints in improving healthcare. The Anesthesia Meet 2018 will be organized encompassing the theme "Global Learning on Advanced Anesthetic Care". Anesthesia Meet 2018 is comprehended of 15 tracks designed to offer widespread sessions that direct current issues in Anesthesiology research affairs.
Millions of individuals across the globe are affected by improper anesthetic handlings – some are minor and others are critical. The global market for anesthetic and respiratory devices reached $11.1 billion in 2012. This market is expected to grow to $12.4 billion in 2013 and $19.6 billion in 2018 with a compound annual growth rate (CAGR) of 9.5% for the five-year period, 2013 to 2018.
An extreme part of research is going on Anesthetics in the top Universities across the globe. Many Anesthesia-related companies are associated with various diagnostic instruments and other therapeutics. Besides these different societies and research laboratories are also associated in this research field.
This is a distinctive international meeting where Anesthesiologists, pediatric anesthesiologists, and veterinary anesthesiologists can meet their colleagues from around the world, and exchange ideas and new information in the field of Anesthetic Care.
The Program is designed for people who are actively involved in the management of Anesthetic Care. We have gathered a renowned international faculty, and attendees will gain the opportunity to learn and receive innovations about the latest knowledge in Anesthetic Care.
Why to attend?
4th International Anesthesia and Pain Medicine Conference are among the World's leading Scientific Conference. The three-day event on Anesthesiology practices will host 60+ Scientific and technical sessions and sub-sessions on innovative researchers in the field of Anesthesiology and healthcare across the globe. Anesthesia Meet 2018 will constitute of 15 major sessions designed to offer comprehensive sessions that state current issues in the various field of Anesthesiology.
The attendees can find exclusive sessions and panel discussions on latest innovations in Advanced Anesthetic Care and by:
Lectures from renowned speakers
Keynote forums by Prominent Professors, Doctors
Open Innovation Challenges
Poster presentations by Young Researcher
Global Networking sessions with 70+ Countries
Novel techniques to benefit your research
Excellent platform for Global business and Networking opportunities
Meet the editors of refereed journals, Societies and Association candidates across the Globe.
Target Audience:
Anesthesiologists
Surgeons
University Professors
Various Societies and their members
Institutes-Medical Schools Students
Research Scholars
Business Entrepreneurs
Training Institutes
Software making associations
Manufacturing Medical Devices Companies
The term anaesthetic is coined from two Greek words: "An" meaning "without" and "aesthesis" means ''Sensation''. An anaesthetic is a drug to anticipate pain during surgery. A broad range of drugs are used in modern anaesthetic practice. Anaesthetics are of following group like: general anaesthetics is a state of controlled unconsciousness and unresponsive patient, local anaesthetics, which cause a reversible absence of pain sensation for a limited region of the body while maintaining consciousness, regional anaesthesia , mainly numb the specific part of the body during surgery. Sequence of anaesthetics is often used for their additive therapeutic effects and interdependent. Adverse effects, however, may also be increased. Anaesthetics refers to the convenience of administering medications either by assimilation or by bang that block the activity of added sensations and affliction, or that aftermath an boundless attachment of asleep that eliminates all sensations, which allows medical and surgical procedures to be undertaken after causing excessive soreness or discomfort.
Management of malignant hyperthermia
ENT surgery
Anaesthesiology and critical care
Epidural anaesthesia
Adult subspecialist management
Cardiothoracic Anaesthesiology is a subspecialty of medical practice under the department of anesthesia. This department deal with the heart or chest/lung related pain diseases and also with the preoperative, intraoperative, and postoperative care of adult and pediatric patients undergoing Cardiothoracic Surgery and other related invasive surgeries. Cardiothoracic anaesthesiology deals with the anesthesia aspects of care related to surgical cases such as cardiopulmonary bypass surgery, Coronary heart disease lung operations, and other operations related the human chest. As these surgeries are complex in nature, extra training is required for cardiothoracic anaesthesiology consultants to acquire the skills needed. Besides these, Cardiac anaesthesia shows a basic character in non-cardiac surgeries if the patient has cardiac complexities. These methods combine perioperative care with expert manipulation of patient's cardiopulmonary physiology through the accurate and advanced application Pharmacology, resuscitative methods, critical care medicine, and invasive procedures.
Geriatric and adult heart disease
Congenital heart surgery
Cardiac neurodevelopment
Echocardiography
Myocardial and pericardial disease
Spinal anaesthesia additionally accepted as subarachnoid anaesthesia is an anatomy of bounded or bounded anaesthesia. Spine is a series of vertebrae separated by intervertebral disks extending from the skull to the small of the back. . It has different regions cervical, thoracic, lumbar, sacrum and coccyx that absolutely accounts to thirty three vertebrae. It is a vital part of your body which supports majority of your body weight and enables you to gain control over your sensation and movements. Spinal diseases and spinal disorders often cause pain when bone changes put pressure on the Spinal cord or nerves. They can also limit movement. Treatments differ by disease, but sometimes they include back braces and surgery, that is extremely common- it ranges from infants to adult. Spinal surgery helps in restoring the spinal disorders like deformities, trauma, scoliosis, degenerative discs, and spinal stenosis.
Orthopaedic surgery
Haemorrhoidectomy
Endovascular aortic aneurysm repair
Carpal tunnel syndrome
Pediatrics is the branch of medical science that includes the therapeutic care of babies, kids, and adolescents. The American Academy of Pediatrics suggests individuals be under pediatric care up to the age of 2.Preoperative evaluation and management of both the child and caregivers is important. The benefits and risks of the anaesthetic procedure must be presented in clear, easily understood terms. The child's medical record should be examined for pertinent information before induction of anaesthesia. Anaesthesiologists must fully understand the proposed surgical, medical or investigative procedure to facilitate the planning of an appropriate level of monitoring and selection of anaesthetic drugs and technique. On-going communication between the anaesthesiologist and surgeon is important if the anaesthesiologist is to anticipate potential changes in a child's physiologic status due to surgical manipulations, and deal with them immediately, appropriately, and effectively.
Obstructive sleep Apnea syndrome
Cerebral hyper fusion syndrome
Myocardial innervation
Post thoracotomy care
Veterinary anaesthetics are an anaesthetic method executed on non-human animals by a veterinarian or a perceived Veterinary Technician. Anaesthetic drugs are used for a wider range of circumstances in animals than in people, because of animals' inability to cooperate with certain diagnostic or therapeutic process. Veterinary analgesia is a pain-relieving medicine used to make animals pain free during therapeutic and diagnostic procedures.
Ophthalmic surgery
Cranial cruciate ligament surgery
Appendicular osteosarcoma surgery
Met encephalon surgery
Analgesic nephropathy is a part of the wider clinical 'analgesic' syndrome, which includes neuropsychiatric, gastrointestinal, haematological, cardiovascular, and dermatological manifestations in addition to the increased risk of developing Urothelial tumours. Although the major malignancy that has been observed in association with Analgesic Nephropathy is transitional cell carcinoma, other cancers such as renal cell carcinoma and sarcoma has also been reported in the literature. Analgesic-associated tumours are more likely to be multifocal and more malignant than those unrelated to analgesics. These tumours are more likely of renal pelvic origin with frequent accompaniment of renal papillary necrosis and kidney dysfunction. A mean phenacetin consumption of 9.1 kg, a mean exposure time of 17 years, a mean induction time of 22 years, and female sex have been reported as risk factors for these tumours.
Nephrotoxicity of NSAIDs
Pathological abnormalities in kidney
Arterial occlusion of renal artery
Impairment of Moderate renal
The immediate, circular, and treatment-related impacts of malignancy on the sensory system have gotten variable consideration by neurologists over the previous century. The maladies enveloped in the Neuro-oncology field and our comprehensions of them have expanded quickly during the previous 30 years. To a limited extent, advance has been driven by mechanical accomplishments in neuroimaging, specifically, registered tomography and attractive consequence imaging. These advances have enabled phenomenal chances to see the life systems and pathology of the focal sensory system (CNS) and, to a degree, bits of the peripheral sensory system that could be influenced by malignancy or its treatment. After combusting, chemotherapy was presented in the late 1960s, neurosurgeons and another type of doctor, the Neuro-oncologist, explored the clinical advantages of an expanding number of anticancer specialists and metastatic tumours in the CNS. In parallel, another area of Neuro-oncology built up that was all the more firmly aligned with neurology.
Pediatric Oncology
Anaesthesia for Prostate Brachytherapy
Gynaecological oncological surgery
Anaesthetic Radiotherapy
Anaesthesia for Fetal Surgery
Down's disorder is a typical congenital abnormality related with trademark morphological highlights, depleted scholarly improvement and disarranges of numerous organ frameworks with a wide range of seriousness. A significant number of these, integrating disappear in restorative appearance, are agreeable to careful revision. The dangers of anesthesia are expanded in these kids. Patients with Down's syndrome may have an airway intricate perplexed by both macroglossia, tonsillar, micrognathia, and a shorter cervical ort neck. They may likewise have obstructive sleep Apnea and lax cervical ligaments and in addition other cervical abnormalities prompting cervical instability. Children and adults may require down-sized endotracheal tubes. 50% of these patients will have intrinsic heart disease, half of which are ASD, VSD, and PDA.
Basic Medical surveillance of down's syndrome
Sanfilippo syndrome
Manifestation of Down's syndrome
Hypo plastic left heart syndrome
Brain impairments associated with Down's syndrome
Developmental assessment of Down's syndrome
Yearly utmost of people distressed by disorders of the central nervous system (CNS) undergo various diagnostic, therapeutic and surgical procedures requiring administration of anaesthetic agents. Anaesthetics exert their anaesthetic, amnesic and analgesic effects by acting on multiple neuronal membrane proteins in the CNS. While some of the causal anaesthetic targets have been identified, many anaesthetic targets remain unknown.
The consequent long-term effect of anaesthetic agents on expression of these various molecular targets has been implicated in mediating potentially long-lasting adverse effects. Recent work suggested that the effects of general anaesthetics may not be entirely reversible, with animal studies demonstrating persistent changes in CNS protein expression post recovery from anesthesia. Age-associated or disease-induced alterations in the CNS can profoundly alter multiple aspects of brain structure, biochemistry, and function. Such maladaptive changes in the brain can render it increasingly vulnerable to the effects of various anaesthetics. The selection of appropriate anesthesia drugs and protocol is mandatory, especially in individuals with pre-existing CNS disorders, to maximize anesthesia efficiency, avoid occurrence of adverse events, and ensure patient safety.
Parkinson's disease
Alzheimer's Disease
Huntington's Disease
Intra cerebral Haemorrhage
Cerebral amyloid angioplasty
Creutzfeldt-Jakob disease
Anaesthetist uses to loss the chance of you reminiscent anything that happens in the Operating Room. These medications include diazepam and midazolam, which belong to the class of medications known as benzodiazepine. In the 1950s, a new inhalational agent, halothane, was originated and rapidly replaced the older agents such as ether. Medications which are used to change your heart rate include atropine (to increase it) and Esmolol (to decrease it). Other medications can raise your blood pressure or lower it. Following medications used in general anaesthesia like inhalational anaesthetics to keep you unconscious, induction medications to yield unconsciousness, muscle relaxants to yield muscle relaxation, analgesics to yield pain relief . Analgesics medications, as a painkiller, are mostly opiates or narcotics. They are either derived from the opium poppy or are synthesised in a laboratory. Anxiolytics are medication cause anterograde amnesia.
Inhaled analgesia
Intravenous analgesia
Neonatal and infant neurotoxicity concerns
Neuromuscular blocking drugs
Airway Management incorporates an arrangement of moves and therapeutic methodology performed to anticipate and calm airway hindrance. This ensures an open pathway for gas exchange between a patient's lungs and the environment. This is proficient by either clearing a formerly disrupted airway or by preventing airway hindrance in cases, for example, anaphylaxis, the anaesthetized patient, or medicinal patience. Airway block can be caused by the tongue, foreign objects, the tissues of the airway itself, and organic liquids, for example, blood and gastric content. Airway administration is ordinarily separated into two classes: essential and advanced. Basic procedures are by and large non-intrusive and don't require therapeutic hardware or propelled preparing. These incorporate head and neck moves to upgrade ventilation, abdominal thrusts, and back blows. Advanced systems require specific therapeutic training and equipment, and are additionally classified anatomically into supraglottic devices, infraglottic procedures, and surgical techniques. Airway management is an essential thought in the fields of cardiopulmonary resuscitation, anaesthesia, crisis medication, intensive care medicine, and emergency treatment. The "A" in the ABC treatment memory aide is for airway rout.
Laryngeal mask airway
Airway assessment in trauma
Management of airway obstruction
Advanced management in intensive care
Initial airway assessment
Affliction administration, burden pharmaceutical is a branch of analgesic utilizing an interdisciplinary access for decay the difficulty and reinforcing the friendship of those exercises identified with standing affliction. The average affliction organization collection incorporates restorative professionals, drug specialists, systematic clinicians, physiotherapists, anatomic advisors, doctor associates, medical caretakers. The combination may moreover suit included brainy sprout authorities and beating advisors. Tribulation now and then purposes expeditiously as of now the basal distress or life structures has recuperated, and is prompted by one professional, with medications, for example, analgesics and (once in a while) anxiolytics. Viable organization of withstanding (long haul) affliction, nonetheless, every now and again requires the obliging endeavours of the organization group.
Acute pain management
Opiate abuse and addiction
Management of buprenorphine
Oro facial pain management
Neuropathic pain management
Palliative care is a multidisciplinary way to deal with specific restorative and nursing tend to individuals with life-inhibiting disease. It centers on giving help from the side effects, pain, physical pressure, and mental worry of a terminal conclusion. The objective is to enhance personal satisfaction for both the individual and their family. Palliative care is given by a group of doctors, medical attendants, physiotherapists, word related advisors and other wellbeing experts who cooperate with the essential care doctor and intimated pros and other doctor's facility or surgery staff to give extra help. It is suitable at any age and at any phase in a genuine disease and can be given as the principle objective of care or alongside healing treatment. Despite the fact that it is a vital piece of end-of-life mind, it isn't limited to that stage. Palliative care can be given over various settings incorporating into healing centers, at home, as a major aspect of group palliative care programs, and in gifted nursing offices.
Children's palliative care
Geriatric pain and palliative care
Palliative care medication
Treatment with non-steroidal-inflammatory drugs
Quality of life and care of people
Domains of palliative care
Neuro modulation incorporates medicines that include incitement or organization of solutions straightforwardly to the body's sensory system for helpful purposes. The objective cells for incitement incorporate nerves in the focal and fringe sensory systems, the autonomic sensory system, and the profound cell cores of the mind, bringing about adjustment of their movement. Neuro modulation treatment empowers numerous patients to expand their action levels and enhance general personal satisfaction. Comparative in capacity and appearance to cardiovascular pacemakers, spinal rope and peripheral nerve incitement conveys the utilization of Neuro stimulation gadgets that send smaller scale electrical flags specifically to the spinal rope or peripheral nerves to square disorder.
Spinal cord stimulation
Deep brain stimulation
Electroconvulsive therapy
Trans cranial pulse therapy
Anaesthesiology is one speciality of medicine that has seen huge advancements since soonest organizes. They have propelled airway complement, Labor analgesia, patient controlled analgesia, fiber optics, Bi-spectral list (BIS) screens, workstations, stimulators What's more mechanical medical procedures, to purpose a couple. Anaesthesia to mechanical medical procedure acknowledged an awesome part jolt additionally might be at exhibit a fantasy will work out on various countries. However at that point, those quick turn secured close by building association also fast refinement of the remedial field require indeed going outperformed this. The following occasion to wander is the passage of robots into the human body. Indeed, smaller scale robots may be infused under the human body the place they will play out their exceedingly specific assignment, additionally this will an opportunity to be delivered time grants toward a peak about multifaceted pharmaceutical what all the more fine innovation that is nanotechnology . Contraptions require help implanted which may which ever join prescription in any case movement pumps then again neural stimulators.
Implications of changing healthcare environment
Evolving Role of robotics in anaesthesia
Patient monitored analgesia
Execution of Nano anaesthetic
Anaesthesia Meet 2018
(Theme: Global Learning on Advanced Anaesthetic Care)
IMPORTANCE AND SCOPE:
4th International Anaesthesia and Pain Medicine Conference, December 13-14, 2018, Abu Dhabi, UAE. The conference highlights the theme "Global Learning on Advanced Anaesthetic Care". Anaesthesia Meet-2018 will discuss the modern research outcomes and technological developments in the field carrying together chief anaesthesiologists, main surgeons, physicians, research scholars, leading students along with industrial and pharmacological professionals to discuss their views on delicate aspects of anaesthesia research. The occasion is designed in a way to afford an elite platform for fresh researchers, scholars, and instructors to present and discuss the newest innovations, developments, and concerns, practical challenges encountered, and the solutions adopted in the field of Anaesthesia. Anaesthesia Meet-2018 will include leading keynote speakers, session speakers, poster presenters who will be presenting their advanced research on the topics general& local anaesthesia, nerve blocks due to regional anaesthesia, Spinal, caudal anaesthesia and, epidural, risks and complications and practices associated to anaesthesia.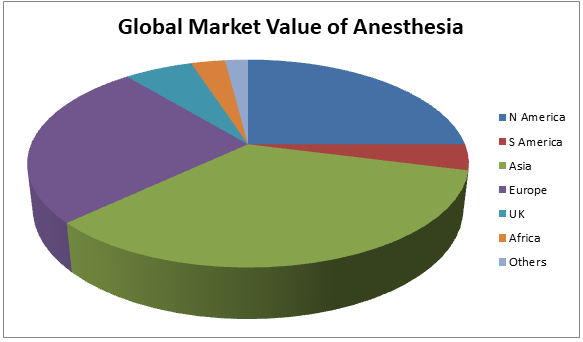 Market analysis:
Anaesthesia-related mortality has fallen from 6.4/10 000 in the 1940s to 0.4/100 000 at present, largely because of the introduction of safety standards and improved training. The current figure of 0.4/100 000 applies to patients without major systemic disease; mortality is higher among patients with severe accompanying illnesses.
Mortality Rate/10000 People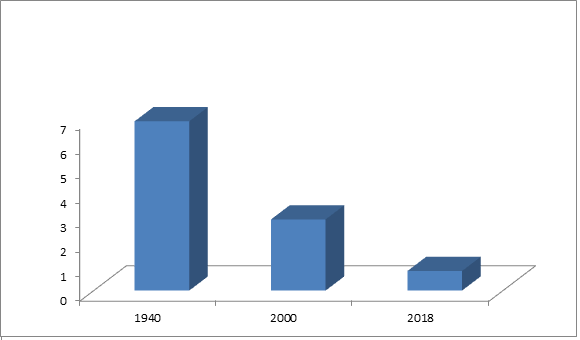 Figure 1: Anaesthesia Related Mortality Rate
Deaths related to anaesthesia have decreased from two per 10,000 anaesthetics administered 25 years ago to one per 200,000–300,000 today. Almost 16.9 million lives were lost in 2011 due to the lack of surgical care. This figure crossed the massive death rate of death rates from HIV/AIDS, TB, and Malaria. Widely most of death is seen in case of childbirth, where out of 7, 1 women die, leading to high level of maternal mortality.
Experts note that the risk and complications during anaesthesia are heightened by the following factors: smoking, obstructive sleep apnoea, high blood pressure, obesity, diabetes, heart- or lung-related medical conditions, history of heavy alcohol use, drug allergies, or a history of adverse reactions to anaesthesia. As the aging population grows and more individuals need medical care, the need for anaesthesia is expected to increase, which means there will be a greater need for anaesthesia.
This study helps director's path participant product deals and market share in the Europe Anaesthetics market. Anaesthesia device product segments analysed in this study include Distribution Machines, Disposables Equipment, Monitors, and Facts Systems.
The worldwide market for Anaesthesia Plans is estimated at € 6.9 billion in 2013 and prediction to be € 7.6 billion in 2014. Maintaining a CAGR of about 7.5% between 2010 and 2020, Anaesthesia Strategies market worldwide is extra projected to reach €11.1 billion by 2020.
Figure 2: worldwide growth of global anaesthesia market
CONFERENCE HIGHLIGHTS
Anaesthetics
Cardiothoracic Anaesthesia
Spinal Anaesthesia
Veterinary Anaesthesia
Pediatric Anaesthesia
Analgesic Nephropathy
Neuro Oncology and Surgery Analgesic
Down syndrome Analgesic
Anaesthetics Impacto on Brain
Anaesthetic Medications and Drugs
Airway Management
Pain research and Management
Palliative Nursing Care
Pain relief and Neuro modulation
Advances in Analgesic Medicine
WHY ABU DHABI, UAE?
Anaesthesia Meet 2018 is going to be held in Abu Dhabi. Abu Dhabi is forenamed to be the finest created place for the field of Anaesthesiology. Abu Dhabi is the biggest and second most populous city in the United Arab Emirates, UAE and 30th largest globally with the 18th highest GDP per capita (USD 44,200) rate. Abu Dhabi lies on a T-shaped island projecting into the Persian Gulf from the central western coast. It is also the capital of the emirate of Abu Dhabi, a standout amongst the seven Emirates that make up the nation over. Abu Dhabi blends both buildings and scenery. For safety as well, Abu Dhabi is on top, also Abu Dhabi has nicer weather, beautiful Islands are worth seeing. Abu Dhabi raised Likewise a worldwide city what's more business centre of the Middle East. The Emirate's Western-style model of business drives its economy for the primary incomes presently greeting from tourism, aviation, genuine estate, also money related administrations. Abu Dhabi International Airport (AUH) is the main flying hub of the city and the second fullest airport in the UAE. The number of passengers at the Abu Dhabi International Airport enlarged by 17.2% in 2015, with more than 23 million passengers passing over its terminals during this year. The general health care is high in Abu Dhabi according to the statistics since it has 51 hospitals, 758 health centres and 423 clinics (acc.to 2016). Anaesthesia and pain management Research work is proceeding in the other adjacent Middle East organizations and Asian nations. In this way, Abu Dhabi will be the colossal place for the get-together
Marjan Aqua Park
Wahat Al Karama
Al Khalidiya Park
Corniche Beach
Qasr Al-Hosn
Ferrari World Abu Dhabi
Yas Water World
Sheikh Zayed Bridge
Yas Viceroy
Etihad Towers
Wadi adventure
Sheikh Zayed Mosque
Hili Fun City
Hazza Bin Zayed Stadium
Masdar City
Manarat Al Saadiyat
WHY TO ATTEND?
4th International Anaesthesia and Pain Medicine Conference are among the World's leading Scientific Conference. The three-day event on Anaesthesiology practices will host 60+ Scientific and technical sessions and sub-sessions on innovative researchers in the field of Anaesthesiology and healthcare across the globe. Anaesthesia Meet 2018 will constitute of 15 major sessions designed to offer comprehensive sessions that state current issues in the various field of Anesthesiology. The attendees can find exclusive sessions and panel discussions on latest innovations in Advanced Anesthetic Care and by:
Lectures from renowned speakers
Keynote forums by Prominent Professors, Doctors
Open Innovation Challenges
Poster presentations by Young Researcher
Global Networking sessions with 70+ Countries
Novel techniques to benefit your research
Excellent platform for Global business and Networking opportunities
Meet the editors of refereed journals, Societies and Association candidates across
the globe.
TOP HOSPITALS ASSOCIATED WITH ANAESTHESIA
Hospitals across global
El Camino Hospital – Mountain View, California
Fortis Memorial Research Institute
Anadolu Medical Center
Bumrungrad International Hospital– Bangkok
Gleneagles Medical Center
Asklepios Klinik Barmbek
Mercy San Juan Medical Center
UCLA Health: Ronald Reagan UCLA Medical Center
Legacy Salmon Creek Medical Center – Portland, Washington
Wooridul Spine Hospital – Seoul, South Korea
Houston Methodist Hospital – Houston, Texas
Hospitals across Middle East
German Heart Centre Bremen
American Heart Center
Al Zahra Hospital Dubai
Canadian Specialist Hospital
Kids Heart American Children's Medical Center
Zulekha Hospital Sharjah
Medcare Hospital
Prime Medical Center
Somerset Clinic previously Farha Children Clinic
Saudi German Hospital Dubai
University Hospital Sharjah
NMC Royal Hospital Khalifa City
Farha Clinics Children Centre
Belhoul Speciality Hospital
Hospitals across Abu Dhabi
Burjeel Hospital
Dar Al Shifaa
Alsalama Hospital
LifeLine Hospital
Mafraq Hospital
Al Noor Hospital
Shaikh Khalifa Medical City (SEHA)
American European Medical Center
Corniche Hospital
Al Gharbia Hospitals
Emirates International Hospital
TOP UNIVERSITIES ASSOCIATED WITH ANESTHESIA
University across global
Harvard University
Cornell University
Yale University
University of Texas South-western medical center
University of Michigan
University of Washington
Harvard University
Vanderbilt University
University of Rochester
University of Alabama-Birmingham
Emory University
Northwestern University
Vanderbilt University
University across Middle East
United Arab Emirates University
American University of Sharjah
Zayed University
University of Sharjah
American University in Dubai
Khalifa University
Abu Dhabi University
Ajman University
Al Falah University
American University in the Emirates
Rochester Institute of Technology - Dubai (RIT Dubai)
Abasyn University
Khalifa University
Skyline University College
Universities across Abu Dhabi
Al Khawarizmi International College
Emirates College for Advanced Education
Emirates Technical & Safety Development Centre
Al Hosn University
American University of Sharjah in Abu Dhabi
Masdar Institute of Science and Technology
Gulf Medical University, Abu Dhabi
MAJOR ASSOCIATION AND SOCIETIES RELATED WITH ANESTHESIA
Association and society across global
Anaesthesia Associates of Wisconsin
Hartford Anaesthesiology Associates
Fairfax Anaesthesiology Associates
Anaesthesia Associates of Kansas City
Anaesthesia Associates of Lancaster
Anaesthesia Associates of Massachusetts
Canadian Cardiovascular Society
Spanish society of Cardiology and Studies
Spanish Society of Surgical Oncology (SEOQ)
International Board for Medical Research
European Society for Medical Oncology
Association of Anaesthetists of Great Britain
Spanish Society for Surgical Research and Ireland
International society of Aesthetic Surgery
Association and society across Middle East
Society of Anaesthesia, Critical Care and Pain Medicine of United Arab Emirates
Oman society of Anaesthesia
Turkish Anaesthesiology and Reanimation Society
World Federation of Societies of Anaesthesiology, Syria
Israel Society of Anaesthesiologists
Iranian Society of Regional Anaesthesia and Pain Medicine
Saudi Anaesthetic Association
Association and society across Abu Dhabi
Society of Anaesthesia, Critical Care and Pain Medicine of United Arab Emirates

Emirates Critical Care Society
World Federation of Societies of Anaesthesiologists, Abu Dhabi, UAE
Society of Thoracic Surgeons
Emirates Medical Association

TOP INDUSTRIAL COMPANY RELATED TO ANAESTHESIA
Industrial company across globe
GE Healthcare
Medtronic
Baxter international
Philips Healthcare
Cardinal Health
Boston Scientific
Abbott Labs
Siemens Healthcare
Covidien
Olympus Medical
Stryker
Danaher
Medtronic
St. Jude Medical
Johnson and Johnson
B. Braun
Industrial company across Middle East
Johnson and Johnson, Middle East
Novo Nordisk Pharma Gulf
Merck, UAE
Smart Health and Nutrition Ltd.
Sanofi Aventis, UAE
Ranbaxy Laboratories Limited
Pfizer, UAE
Gulf Inject
Astra Zeneca, UAE
Medph
Industrial company across Abu Dhabi
Gulf Industrial Services Company LLC
Johnson and Johnson, Middle East, UAE
Ranbaxy Laboratories Limited
Novo Nordisk Pharma Gulf
A glance at Market and Funding for Surgery Research:
Medical doctors, patients, and health care providers consider the prevention of diseases as an essential tool to improve the general health status of the population and the proportion of people suffering from the different disease will increase by 50.2% by 2020. The top institutions researching in the related studies have been funded with 575 Million Dollar worldwide. According to recent statistics, (ENT/respiratory, neurological, dental, and Pediatric) diseases worldwide will double between 2012 and 2030. The current market value of Surgery is $575 billion and is expected to reach more than $700 billion by 2020.
Target Audience:
The conference discusses the upcoming Trends and technology of anesthesia and advancements in the field and brings together leading surgeons, ENT surgeons, physicians, research scholars, students along with industrialists and pharma professionals to exchange their views on critical aspects of Surgery research. The meet is planned in a way to provide an exclusive podium for new researchers, scholars, and educators to present and discuss the most recent innovations, ideas, and concerns, practical hurdles encountered and the solutions adopted in the field of Surgery. Anesthesia Meet 2018 will comprise leading keynote speakers, session speakers, poster presenters who will be presenting their research on the topics Orthopedic Surgeons and Rheumatology, gynecology, Diagnosis and Imaging Techniques for Different disorders in the human body from top to bottom.
Industry -12%
Academia -78%
Others -10%
Projections: Future Growth of anesthetic field
The global anesthesia drugs market is anticipated to grow at a steady rate and will post a CAGR of more than 3% during the forecast period. The growing volume of surgical procedures will drive the growth prospects for the global anesthesia drugs market in the coming years. Anaesthesia is administered during various surgical procedures conducted to treat various diseases such as cardiovascular diseases, gastrointestinal diseases, urological disorders, spinal abnormalities, brain tumors, and orthopedic deformities. The rise in the number of surgical procedures in the European countries will aid in the growth of the market in these locations. For example, in Slovenia, the laparoscopic surgeries have been doubled and in it is tripled between 2008 and 2014. Some of the surgeries performed in various ambulatory surgical canters' (ASC) include lens and cataract, hernia procedure, cervix and uterus removal, hysterectomy, and transurethral excision.
In terms of geographical structure, the Americas have the maximum market share during 2016 and will continue to lead the market until the end of 2021. One of the major factors responsible for the market's growth in the US is the growing demand for propofol. Additionally, the increasing focus of a large number of vendors towards exploring new routes of administration such as oral and topical will also drive the preference for anesthetic drugs in the market. Analysts predict that the increasing demand for anesthesia in labors will also drive market growth. According to the Centres for Disease Control and Prevention (CDC), the total number of deliveries including vaginal and cesarean stood at 3,984,502 in the US.
RELATED CONFERENCES
Related Association and Societies
Europe
European Association of Cardiothoracic Anesthesiology; European Society of Paediatric and Neonatal Intensive; Association of Anaesthetists of Great Britain and Ireland; Society of Academic Associations of Anesthesiology and Perioperative Medicine; European Society of Anaesthesiology; German Society of Anaesthesiology and Intensive Care Medicine; European Society of Intensive Care Medicine; Belgian Society of Anaesthesia and Resuscitation; Bulgarian Society of Anaesthesiology and Intensive Care; Croatian Society for Anaesthesia and Intensive Care
Middle east and Asia pacific
Egyptian Cardiothoracic Anesthesia Society; Asian Society of Cardiothoracic Anesthesia; Asian society of Veterinary Surgery; Asian and Oceanic Society of Regional Anaesthesia and Pain Medicine; Korean Society of Anesthesiologists; Society of Anaesthesia, Critical Care and Pain Medicine of United Arab Emirates; Oman society of Anaesthesia; Turkish Anaesthesiology and Reanimation Society; Israel Society of Anaesthesiologists; Iranian Society of Regional Anaesthesia and Pain Medicine; Saudi Anaesthetic Association; Japan Society for Clinical Anesthesia
America and USA
America Society of Anesthesiologist; American Association of Pediatrics; American Society of Regional Anesthesia and Pain Medicine; Society for Obstetric Anesthesia and Perinatology; Society for Pediatric Anesthesia; Society for Neuroscience in Anesthesiology and Critical Care; Society for Ambulatory Anesthesia; Society of Academic Associations of Anesthesiology and Perioperative Medicine
To share your views and research, please click here to register for the Conference.
To Collaborate Scientific Professionals around the World
Special Issues
All accepted abstracts will be published in respective Our International Journals.
Abstracts will be provided with Digital Object Identifier by
---
Conference Series LLC LTD Destinations
Webinars & Conferences By Continents
Americas
Asia-Pacific & Middle East